I am including UPS news here as it will affect postal workers if they go on strike.  Some of us remember the last time they went on strike and it was a madhouse at the USPS.  Parcels have to go somewhere and the USPS is there..
July 7 – The Teamsters stopped negotiating this week despite strong proposals from the company that build on our industry-leading pay and benefits for our full-time and part-time employees. We have encouraged the Teamsters to return to the table to continue building on the significant progress we have made, including the recent completion of all local supplements.
Just over three weeks remain until the current contract expires Aug. 1. Refusing to negotiate, especially when the finish line is in sight, creates significant unease among employees and customers and threatens to disrupt the U.S. economy. We are proud of the proposals we have put forward that deliver wins for our people.
FedEx details capacity plan as UPS strike fears intensify
The carrier will use volume from July 17-21 as a baseline capacity measurement. Shipments exceeding that amount aren't guaranteed to be accepted.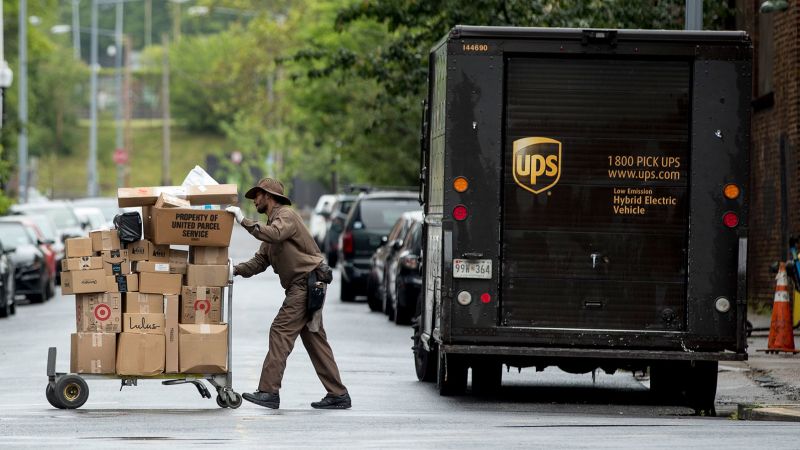 The US economy can't function smoothly without UPS. That's why a strike will hurt | CNN Business
The last time United Parcel Service went on strike in 1997, Amazon was still just a jungle in South America to most US consumers. If they went online at all, they probably did it via dial-up modem, and rarely to shop.
Teamsters picket metro Atlanta UPS hub in preparation for possible strike
DULUTH, Ga. - United Parcel Service workers are heading to the picket line in metro Atlanta as contract negotiations for better pay and conditions continue to stall.
US labor secretary sees no need now to step into UPS-Teamsters talks
Acting U.S. Labor Secretary Julie Su said on Friday she does not see a need at this stage to step in to urge parties to reach a deal in contract talks between the Teamsters Union and United Parcel Service .
---